Hi everyone, thought I'd post some pics of my garden here. It's still early beginnings as we just moved here in December.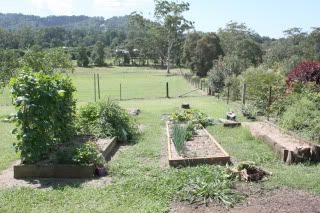 This is a view looking from the top of the 'Veggie Patch'. I currently have in Beans, Shallots, Cabbages, Bush Tomatoes, capsicums, chillies, pumpkin, asparagus, parsley and garlic. I've just pulled all my lettuce as they'd gone to seed. Eventually, when I have more beds up and running I'll let some beds go to seed. I've got some pineapples there in pots, waiting for me to plant in the ground too.
This is 'The Girl's' area. There are two giant liquid ambers in this area that used to be the dog camp. We've just had a few good storms so have lost quite a few of the branches. We're considering removing them altogether. If so I may then turn this area into my Orchard come chook/duck run.
And here are my darling girls ..
Big Red the Isa and Rosie & Lucy Peckins (with the wind up their skirts
). Don't know where Ruby Red was at the time but atm we're really only able to tell them apart by the bands on their legs LOL!
The two whites are Silkies X (with what we have no idea). They've got a real 'Rhianna hairstyle' look to them LOL! They've been sitting under the tractor, and currently have black grease on their heads. Here's Pearlie (I think .. again, they're hard to tell apart
)
Hubby's currently in the process of getting some Angus steers that we will feed up and butcher later on down the track. Anyway, thought I'd share our latest adventure. Hopefully I can drop in and get some helpful tips from everyone here.



_________________


Cheers,
Lyn



Currently in possession of 1 husband, 2 kids, 2 cats, lost track of the chickens, now there's just alot .