A fresh start! (Photo heavy)
We have moved so it's back to square one!
I am half excited to start from scratch but there is sooo much to do! We have only just scratched the surface! We are in for a very busy year to get everything done before we expand our family of three (humans) to four
Pics
I love sharing
This time I edited on the computer before uploading to photobucket!
The ducks temporary pen. Need to build something a little more permanent, build nesting boxes etc.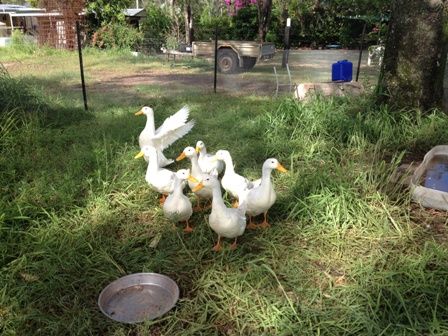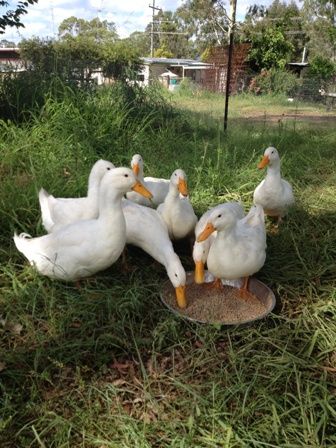 Sebrights. I have taken the gold ones out since, they are in a chook tractor for now, until we build more pens. I don't have a pic of the new big pen at the moment but will upload one another day. The OH has done a great job!
Guinea Fowl enjoying some fresh air & outside time. It was very hot yesterday!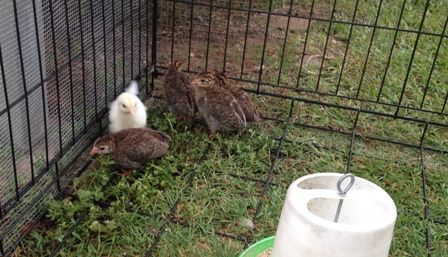 Our home laid eggs Vs Store bought ( apparently free range ) Don't look free range to me. Very orange and don't taste very good.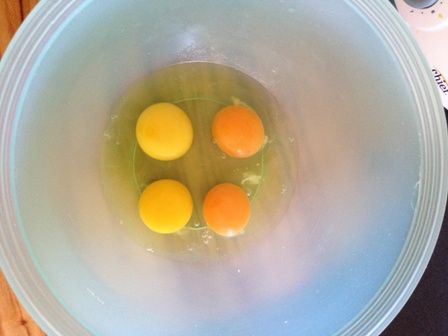 Sheep.
The Girls. Two very plumby lambs ready to go in the freezer very soon
The Boys. Bobby our big Ram and little Benny, our orphan lamb. Getting big now! They are close buddies now.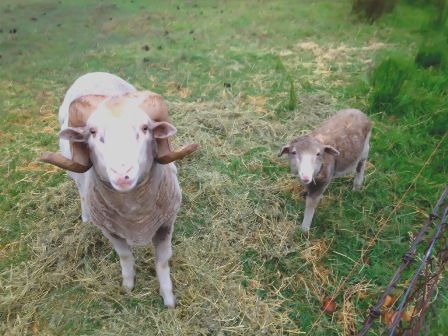 Xena
As beautiful as ever.
We have 3 big Lilly Pilly's growing beside a lean to patio off the OH's "man cave" as I like to call it, It was very bare and the soil was rock hard so we raised it and put in a garden. It's my favourite garden and we use the area for entertaining. The OH built the retaining wall with sleepers.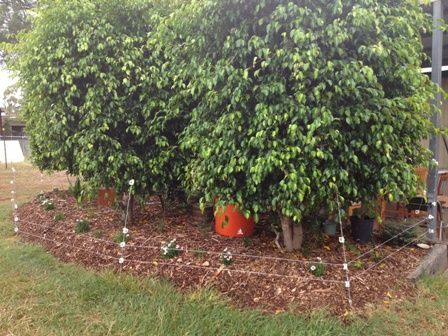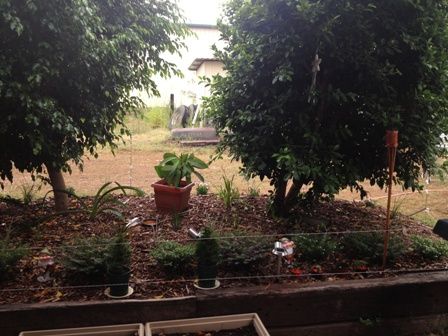 A lovely day lily I bought from the markets in my lilly pilly garden
A plant I got for mothers day, I have no idea what it is but it just grew the sweetest little yellow flower.
Rear shot of the house, it's a modest little place, not very big and we need to do some reno's inside and out. We are going to gut the laundry inside to make our kitchen bigger. Build a large under cover deck onto the back and build a new laundry to the left (move the left bedroom window to the side.) And get rid of the pain in the butt bay window in the kitchen and put in a wooden bench servey instead, which will also block in the water heater with a wooden door for access.
Side shot (where the new window will go in) and a gorgeous mock orange hedge, just starting to flower, it smells beautiful! Imagine that wofting in through the window on a balmy summer evening...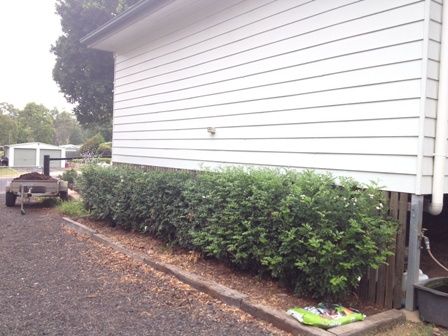 Side of house going round to the front. We will extend the veranda out to the edge of the house and put railings in.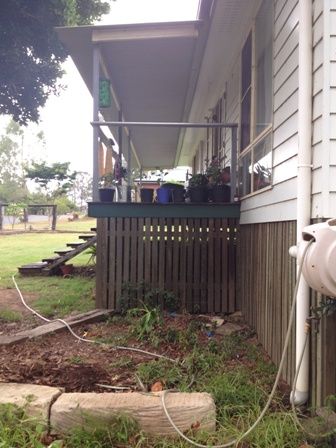 Front garden.
Left side, before Yakkas were pulled out. A big Macadamia tree which I Looove. It drops a lot of nuts but I really don't mind because we will extend the garden around it once the verandah is done so there will be no nuts to run over with the mower, plus my son loves to eat them and it provides the best shade in the afternoon.
Front fence & gate. In the photo with the gate the first red robin on the right, next to the gate, is the victim of doggy abuse, but with a little tlc and tips from some of you, it is doing well.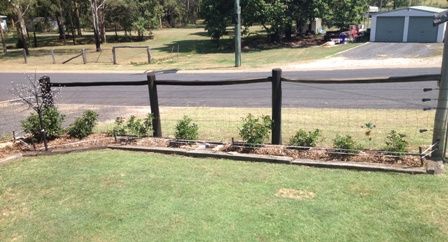 View from front steps to the right. I have planted a Guava tree, when the verandah is finished, we will build a garden along the verandah. I have some Bromelaids in pots there that I am going to plant under the frangipani in the corner.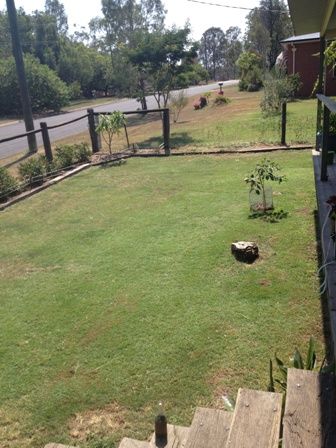 A Loquat tree I planted out the back.
And last but not least, this is our paddock we need to fence off for Elvis. We are going to continue the same style fencing and build a stable. At the moment my son rides his motor bike there and use it to stock pile materials. As you can see the bike tracks there
So there you have it folks, hope you enjoy. I know I love looking at other peoples places, different set ups, get lots of ideas.