Horse updates Pls - any bubs yet?
Just wondering how everyones horses are going?
Shires? Pregnant mares? Rescue ponies?
Down my way, I'm letting my big fella Radar take some time off with his EPSM issues. I just want to get through spring without the complications of trying to ride him and getting him ready to compete at low level eventing.
I've started off his younger brother (Tully) who is now called T.J. as my main riding/competing horse (we have a basic dressage comp coming up in Nov). He is proving to be everything I had hoped Radar would be. A very quick learner like Ray, but much more responsive because he doesn't have the miscommunication going on between his muscles and his brain. It's actually nice to be riding a 'normal' horse again. Of course Ray still gets heaps of love, treats, special diet and attention.
My daughter is riding her pony (Gossi) (or the 'munchkin' as I call him) out with us on adventures once every couple of weeks and he is proving to be worth his weight in gold. I never imagined the bargain I got when I bought him as a half neglected half rescue case. He ponies along on the lead off my horse and looks after her so well. Today he didn't bat an eyelid at a bulldozer, a ditch or a hose squirting water into a drain. Considering he's only been ridden less than 20 times for a young Australian riding pony x Arabian riding pony he has a temperment second to none. We are certainly all enjoying our rides out together.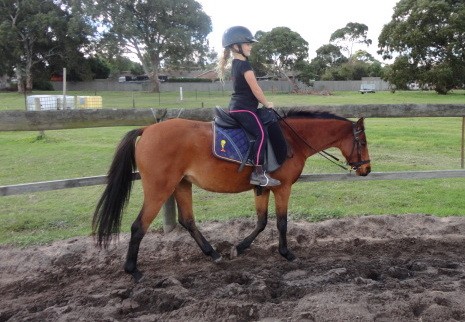 I'll add a mother/daughter photo when I can get someone to take one for me
.
Add your updates pls.