A very interesting and informative discussion. Here's my contribution.
Sex linkage refers to is the fact that if you cross certain breeds of chickens, the resulting chicks can be sexed by the colour as they come out of the egg. In other words, all the females will be one colour and the males a different one. Day old chicks are tricky to sex and this trait can be very useful.
A few years ago, I purchased a set of old farming books that were written in the 1940s. These books are very outdated but are making interesting reading. The poultry book, talks of what we would now think of as rare breeds as everyday poultry on the farms of the UK.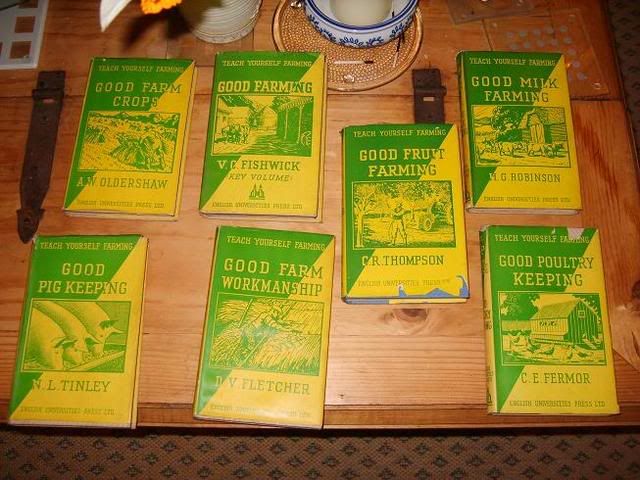 I saw them and couldn't resist putting my hand in my pocket. They are first editions written in 1944 and I paid £10 for the seven. I havent seen these before, has anyone else ?
One or two of them, could prove to be very useful, they were originally priced at 4/6d each.
To give you an idea of just how much things have changed, heres a list of sex linked pairings that they suggest.
Rhode Island Red X Light Sussex
Rhode Island Red X White Sussex ( I'd never heard of White Sussex let alone seen one)
Buff Rock X White Wyandotte
Brown Leghorn X Light Sussex
Brown Leghorn X White Wyandotte
Buff Leghorn X Light Sussex
Buff Leghorn X White Wyandotte
Has anyone ever seen a Buff Leghorn ?
Wellsummer X White Wyandotte
Black Leghorn X Barred Rock.
I hope this has been of some use.