---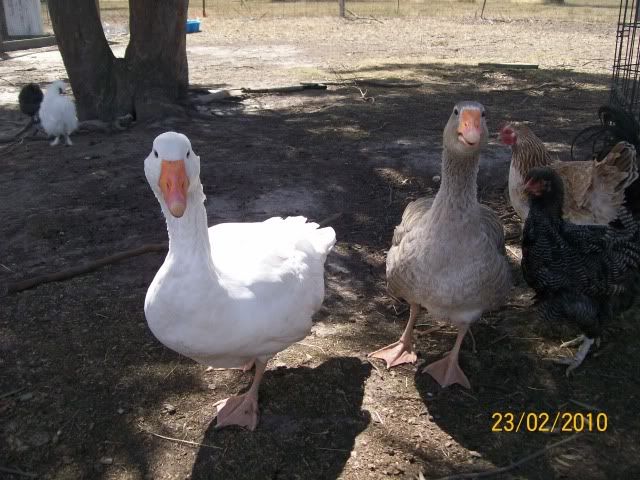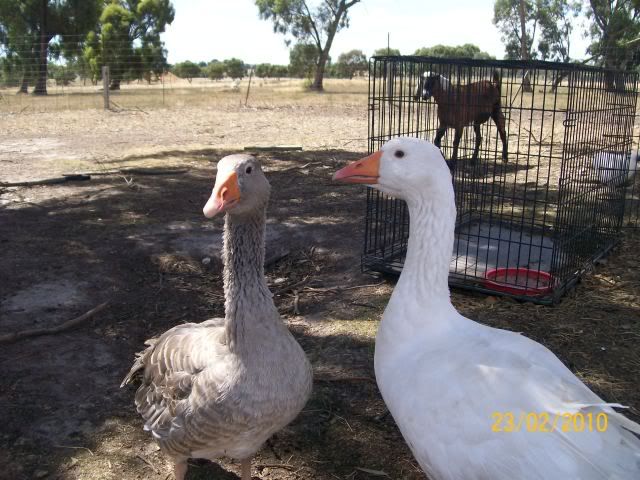 Pilgrim geese.

These guys are not quite mature in these photos. This variety of goose is able to be sexed at hatching, boys are all white and girls are grey. They have bright orange feet and beaks, and the boys have lovely blue eyes. The white coloring around the beak and eyes of the female is typical, and becomes more pronounced with age.

They are a smaller variety of goose, not aggressive towards people, although my gander will chase my billy goat and can be a bit mean to any Silkies who get in his way. They are able to fly at about waist height for short distances. They are quite noisy.

Geese are primarily grazers, and like somewhere to wet their heads and appreciate a pond in summer. They will make a big mess of all your water containers, so keep them away from troughs or any water vessel that is not easy to tip out and refill. They rinse their bills and leave dirt and grass in the water.

They are funny, impatient and bossy. My gander rattles the gate while waiting for me to prepare feeds in the evening. I was hoping to breed them, but the goose hasn't started laying or nesting yet. We'll see what happens. They are a fun and easy-care addition to the farmyard.