Hi there everyone. Well the babies are settling in nicely and I've already lost my heart to them all LOL! Hubby and the kids have named them. The larger one (which I think is a boy) is called Optimus (as in Transformer), the medium one is Bumblebee and the littlest is Jazz.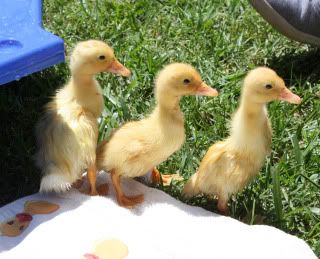 Anyway, as I do, I was wondering about what I should be growing in the way of herbs, etc that they will enjoy nibbling at. I've had no luck googling as apparently the words herbs and duck = roast duck!
Anyway, any suggestions would be greatly appreciated.



_________________


Cheers,
Lyn



Currently in possession of 1 husband, 2 kids, 2 cats, lost track of the chickens, now there's just alot .