How to dress a rabbit safely. Picture Heavy.
I recently saw a post by a Johnny Rambo type character on how to joint a rabbit. Well I ask you? He'd got four of the most evil looking knives, an axe and a humungous meat cleaver.
These are the tool that I use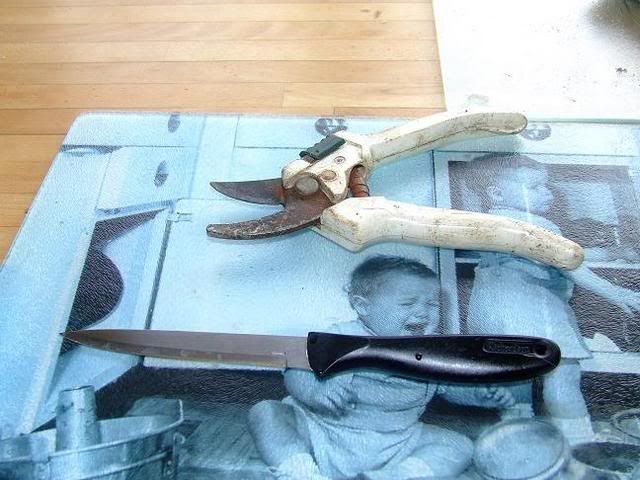 Even the secatuers are a bit of overkill, as you can snap the bones of the feet and cut them off with a knife.
Cut the feet off with the secateurs at the equivalent to our wrist.
and tidy up with the knife.
Don't forget to do all four.
I always cut the tail off at this stage.
Now this is the bit where you need to take a bit of care. Pull the skin up and nick it with the point of the knife being careful not to go into the body cavity.
Then just widen the hole with your fingers.
The you just peel it like a glove.
Pull the fur right down over the head and then just cut the neck right the way around with the knife.
and just cut the head off.
I always use the secateurs or a knife to cut down through the pelvic region.
JOINTING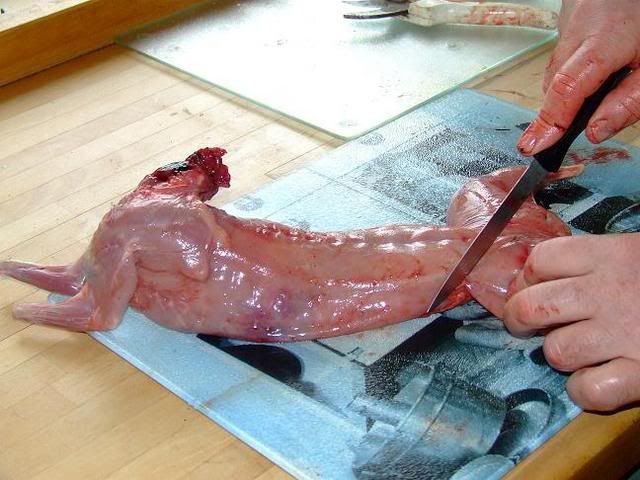 I use a knife to cut the back legs off.
Two nice joints - voila
Then I cut the ribs and forelegs off.
Which leaves me with the fore-quarters and saddle. I dont cut the front legs off, simply because they are just too small but this leaves 4 nice joints.
The bit in my hand is the tail bone which I got rid of.
The whole process took about 5 minutes and more to the point I still have all my fingers.